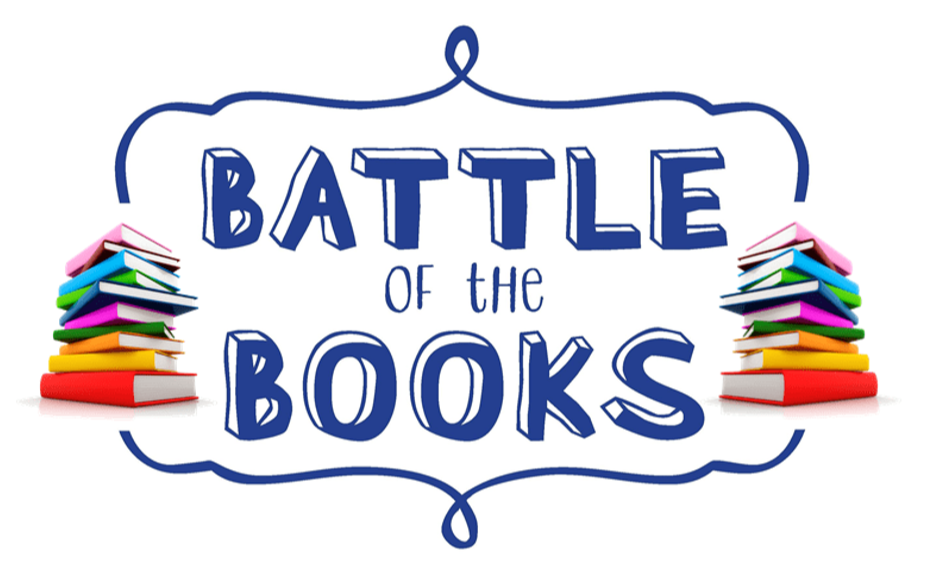 We are excited to announce that our 2nd-6th grade students will participate in the reading challenge Battle of the Books. This fun program is sponsored by the PTA.
Due to COVID-19 uncertainty, we are holding off on making teams for now. We hope our situation improves, and we hope to be able to make teams in January or February to battle in April or May. However, we encourage students to start reading right away! The Battle of the Books lists are full of best sellers and all-time favorites. The more books read, the higher the chances of winning the tournament we hope to hold in the spring.
We strongly encourage students to participate in this fun and educational event. Parents, support your students who are participating by encouraging and helping them read and answer questions about their books at home. Practice questions begin with, "In which book . . ." The answer would be the title and author. Book lists are as follows:
3rd-4th Grade List
The One and Only Ivan by Katherine Applegate
Mr. Popper's Penguins by Richard Atwater
Lincoln and Kennedy: A Pair to Compare by Gene Barretta
Freckle Juice by Judy Blume
Bobbie the Wonder Dog: a true story by Tricia Brown
Tornado by Betsy Byars
Muggie Maggie by Beverly Cleary
The Lemonade War by Jacqueline Davies
Because of Winn-Dixie by Kate DiCamillo
Phineas L. MacGuire…Erupts!: The First Experiment by Frances Dowell
Boxes for Katje by Candace Fleming
My Father's Dragon by Ruth Stiles Gannett
The Infamous Ratsos by Kara LaReau
Nim's Island by Wendy Orr
Clementine by Sara Pennypacker
Knights of the Kitchen Table by Jon Scieszka
I Survived The Great Molasses Flood, 1919 by Lauren Tarshis
Boxcar Children by Gertrude Warner
Charlotte's Web by E.B. White
You Never Heard of Sandy Koufax?! by Jonah Winter
Examples of Competitions
2019-2020 Battle of the Books Update

The PTA would like to recognize students for participating in Battle of the Books during the 2019-2020 school year and summer. Visit this
link
to verify which books have been recorded as being read by your student and report additional books your student has finished reading. Prizes will be awarded to eligible students as soon as possible.
2nd Grade List
Freckle Juice by Judy Blume
Bobbie the Wonder Dog-a true story by Tricia Brown
Sword in the Tree by Clyde Robert Bulla
Miss Rumphius by Barbara Cooney
Molly's Pilgrim by Barbara Cohen
Boxes for Katje by Candace Fleming
The Patchwork Quilt by Valerie Flournoy
Pocket Full of Colors by Amy Guglielmo
Invisible Inkling by Emily Jenkins & Harry Bliss
Henry's Freedom Box by Ellen Levine
Dinosaurs Before Dark (Magic Tree House Series #1) by Mary Pope Osborne
Clementine (Series #1) by Sara Pennypacker
My Rotten Redheaded Older Brother by Patricia Polacco
Knights of the Kitchen Table (The Time Warp Trio Series #1) by Jon Scieszka
Brother's at Bat: The True Story of an Amazing All-Brother Baseball Team by Audrey Vernick
5th-6th Grade List
The White Mountains (Tripods Series #1) by John Christopher
Ice Magic by Matt Christopher
Who Was Neil Armstrong? by Roberta Edwards
What's the Big Idea, Ben Franklin? by Jean Fritz
My Side of the Mountain by Jean Craighead George
Escape from Mr. Lemoncello's Library by Chris Grabenstein
Unusual Chickens for the Exceptional Poultry Farmer by Kelly Jones
Masterminds by Gordon Korman
A Wrinkle in Time by Madeleine L'Engle
Ella Enchanted by Gail Carson Levine
Number the Stars by Lois Lowry
The Mad Wolf's Daughter by Diane Magras
Wonder by R.J. Palacio
Hatchet by Gary Paulsen
Scared Stiff by Willo Davis Roberts
Esperanza Rising by Pam Munoz Ryan
Holes by Louis Sachar
Brothers at Bat: The True Story of an Amazing All-Brother Baseball Team by Audrey Vernick
Love, Ruby Lavender by Deborah Wiles
The Castle in the Attic by Elizabeth Winthrop
 *All Battle of the Books Lists are Copyrighted